Gift of the Strangers
Creativity: A Force for Change

Click here for excerpt
The experiences of a nursing home creative writing class. 166 pages.
"The dignity of the elderly, the profound respect for thoughts and words, the sensitivity to feelings and history – they are all in
this moving work."

- Auxiliary Bishop Robert Morneau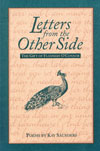 Letters from the Other Side: The Gift of Flannery O'Connor
Poems by Kay Saunders, 1998.
"For those not totally familiar with the writing of Flannery O'Connor the poems in this volume will hopefully lead to a deeper appreciation of perhaps the greatest American Catholic literary writer of the twentieth century. For those already conversant with O'Connor, the verse here will bring about many smiles of familiarity"

- Auxiliary Bishop Robert Morneau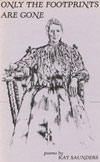 Only the Footprints are Gone

Click here for excerpt
Poems by Kay Saunders. Thirty-four poems published
in 1987, Quality
Printing, Neenah, WI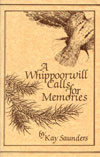 A Whippoorwill Calls for Memories
Twenty-six poems published
in 1982, Post Printing, Inc., Appleton, WI
Described as "Tuesdays with Morrie meets Georgia O'Keeffe," The Grace of Ordinary Days by poet Kay Saunders and nature photographer Bernie Saunders is a rare glimpse into the separate but connected lives of
a mother and son.
Available in hardcover. Order here